Abbreviations

Terms
In this site, I use scores
such as,
Character aspects(min:1, max:5)
Intercept attack: 3
Offensiveness:5
Whiff Punishment:3
Panic Moves:2
Block Punishment:3
Attack Strings:2
These terms are used in this website,
however an English player
tells me these are commonly used
in the world.
Intercept attack(Oki)
-When the opponents come closer to you,
you strike them with this "Intercept attack".
For example, Paul or Nina has Right Upper(d/f+2),
which is very useful, because it can be a launcher.
We call it "Oki" in Japan.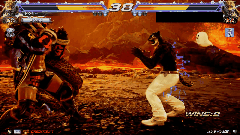 You do this when you think
they are coming closer.
Offensiveness
If the character has a low attack which can be
a combo launcher, or has a mid attack
which can be a combo launcher but no punish,
the character can be said to have a good offensiveness.
Whiff Punishment
If the character has a easy command,
which is mid attack, and long reach,
it will be a good whiff attack.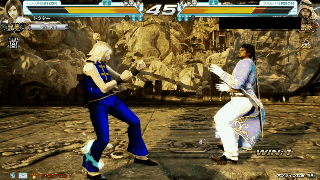 Asuka's Demon Slayer(f+2),
is one of them.
Panic Moves
When the other player tries to be
offensive to you, sometimes you want to
escape or stop him/her without blocking.
Then you can use these "Evading moves".
For example, Jin and Feng have u/f+2,
which can used as evading.
Or Asuka or Nina have "Parry".
And Law or Paul have Hi-Kick,
which can be a launcher when countered.
Block Punishment
When you block some moves,
you can get damage by punishment.
But it will depend on the characters' move.
For instance, Eddy and Raven are not
good at punishment.
And Heihachi has some good punishments
from Standing position, but not from Crouching position.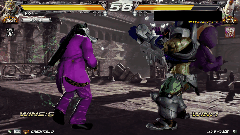 King's Quick Hook(b+1,2)
is one of the best Block Punishment.
Attack Strings
Some moves have second,
third,or fourth hits.
You can choose to stop
at each hit,
or you can choose not to stop
till the last one.
For example,
Dragunouv has
1
1,3
1,3,1
1,3,2
1,3,2,1+2
1,3,2,1+2,b
In this case,
the third hit might be
High(1) or Mid(2).
And when they see the Mid(2)
it could be throw (1+2).
Or you can stop at the second hit(1,3).
Like this,the opponents have to
think and judge for the coming next.
Some characters
such as Bob, Dra, or Asuka,etc
have many good Attack Strings,
whereas, Heihachi, King, or Feng
don't have so many.