TEKKEN7 FR King tutorial-Practice(for beginners)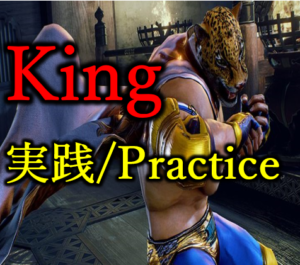 I will show you 3 things,
for those who want to keep
over Fighter(10 dan) in online matches.
Understand about punishments.
Practice Giant Swing and Shining Wizard.
Try to hit Body Blow and Jumping Knee lift
1.Understand about punishments.
As it is written in Theory,
King punishments are very useful.
Some moves have no punish
for some characters, but for King.
For example, I sometimes hear
some King players don't like Nina.
But there are many punishments
for Nina moves.
If you know them,
you can get good damage sources.
If you watch my video against Raven,
you can find many Block Punishments.
[TEKKEN7FR]Doctor(King)VSKreva(Raven)20171228
Practice Giant Swing and Shining Wizard.
If you want to use King's throw,
you need to practice to do GS and SW easily.
And there are many situations that
you can do GS.
I have made a video for GS.
Please take a look and hope you find it useful.
Tekken 7FR-The Introduction of Giant Swing Strategy ジャイスイの美学(リメイク)
And if you practice SW, especially Instant SW,
you can be a better King player.
I also made a video for ISW. Take a look.
Improve your Instant Shining Wizard(with Eng Comments) / 零シャ入門(コメント字幕付き)
Personally, I think low rank players
have little skill for throw breaking,
therefore the more you throw,
the more you can get damage.
Try to hit Body Blow and Jumping Knee lift
Body Blow and Jumping Knee lift(u/f+4)
are most useful mid attacks in King.
Although they have punishments,
the opponents will be careful for
these moves.
It means they will focus on blocking,
then you have chances to throw.




Conclusions
If you want to be 10 dan,
you don't need to understand
when to use small moves.
However, if you want to be more than
15 dan, you need to understand
to use small moves also.
But first thing first,
please try to
understand when to throw and
when to do big moves.
That is the start.